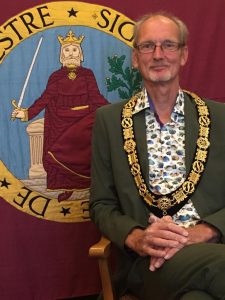 It has been a very challenging year to be the Mayor of Oswestry. Here are some reflections on the year that I made in December 2020.
A few decades ago, I went to a conference entitled Vision 20:20 where presenters imagined what the world would be like in the far-off year of 2020. How little they knew then, and how little we knew just twelve months ago.
Covid, and our response to it, has affected every single family and person in Oswestry. Some of this impact is very obvious but some of it won't be seen for many years to come. The pandemic has revealed some serious inequalities in our lives, but it has also encouraged us to re-evaluate how social we are and how important our families, friends and communities are to our well-being. We will never take them for granted again.
One of the many strengths of Oswestry is the way that in a town of our size people of all ages and backgrounds mix on our town streets, pubs, parks and societies. This year I saw a very clear example of that on launching my "Meet the Mayor" events in the heady days when we could sit with people we didn't know in cafes. My first conversation on the tables outside Aroma café was a lady of a certain age, who when asked what Oswestry needed said without hesitation "A skateboard park". Fortunately seeing the surprise on my face, she explained that her grandson travels to Wrexham for his skating. It seemed a good example of how Oswestry people think about their families and friends first and nobody was more delighted than me when the next month the Council received and accepted a petition which has resulted in proposed sites and funding for a skate park being considered.
Although all members of our community contribute to the vibrant life of our town, this year our thoughts have been with those who have had particularly challenging times: Health workers, teachers, care workers, charities supporting struggling families and those isolating. This list is long and I'm sure you can add some more from your own experience and it will be interesting to read the "Lockdown diaries" being complied by pupils at the Marches school.
As Mayor my chosen charity was the Shropshire Domestic Abuse service who I have already raised over £4,000 for. Unfortunately, their services have been in high demand this year as recent headlines confirm. It is often very difficult for victims to get help and I remain committed to introducing the "Ask Me" scheme in Oswestry to build a network of informed and trained community champions in the same way we have trained first aiders in the community.
It's also been a dreadful year for many of our local business which make our town unique. The loss of key events such as the light switch on, Bonfire display, and the food and balloon festivals have hit the hospitality sector badly. Across the County of Shropshire if we could all redirect £3.80 of spending a week to local business, that would create and extra £1M of business (and jobs) for local people each and every week
This year has been hard, but we have every reason to be confident that the town can prosper over the coming years. During lockdown many people commented on how safer it felt to cycle and walk around the town. A town like ours is perfect for cycling and with a little investment in our bus station there would be far less need to make car journeys, thereby reducing congestion and pollution.
As we move into 2021, we will also be working to restore our wonderful programme of festivals and maybe add a few more such as a St Oswald event. We are also looking to boost youth services to help our young people who have missed out on their education and development.
If, like me, you are forgoing travelling this year to spend Christmas and New Year at home, so can I wish every resident of our great town a happy Christmas and the hope that 2021 will be the start of something very special.