Event with Year 7 students and Jake Walker- Aston Villa Footballer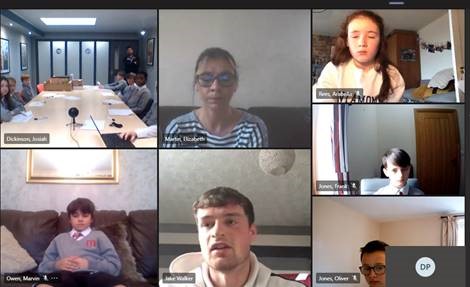 This week saw a very exciting opportunity for a group of year 7's to meet (online) Aston Villa professional footballer Jake Walker. Jake is an ex-student of Oakmeadow school and originates from Shrewsbury.
There was a buzz of excitement throughout the group prior to the meeting and it did not disappoint. Jake gave a detailed account of his story so far, explaining the importance of a positive and competitive mindset both in his football but also in wider life in order to succeed. Jake made his education a priority alongside working his way through the professional environment and explained how organisation was key for him to strike a balance and be able to go on to achieve GCSE's and then A levels while still training full time. The story culminated in his experience of playing against the best footballers in the world when he faced Liverpool in the FA cup.
The children then had an opportunity for a Q&A session which Jake seemed to enjoy himself and some of the children had him on his toes with brilliant questions.
Jake summarised his talk with 3 pieces of advice for the students that he said can be applied to any walk of life…
Be on time, which means 5 minutes early.
Be respectful, he holds manners in the upmost esteem.
Work as hard as you can at whatever you are doing and do it with a smile (even if it's forced).
Thanks, so much Jake and best of luck from the Marches!!
Summary from a student who attended- Grace
Today we met Aston Villa U23s player Jake Walker. He gave us a speech about his career and we got to ask him some questions. He told us about his life as a child, about working hard every day and gave us tips on how to become pro. He told us about his mindset and not to regret your past. He told us about behind the scenes and insight ion the Liverpool game, tips for training sessions and what you must eat. Everyone thought that his speech and answers to questions were very interesting and it motivated everyone to do better in life.