My colleagues and I are all out of shot, leaving an empty scene as we watched the Secretary of State for Education announce the first closure of schools late that night. The box of tissues looks quite symbolic along with the empty space, and radios appearing abandoned – such an important tool in the smooth running of a school full of students.
At the time I remember thinking I had missed capturing the team at that moment in the shot, but looking back, the empty space better represents the feeling of having the rug pulled from under you with no notice.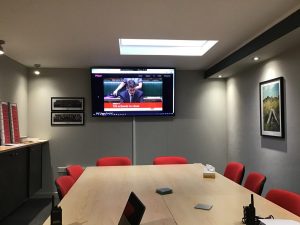 We had anticipated something, Year 9 were already out due to staffing shortages, and Year 11 had left for good, but this meant that no other students would be back the next morning. We had hurriedly given out booklets, just in case, and trained students that week on how to log into Teams.
Hearing the actual facts of the closure, and in the same speech, that there would be no exams at GCSE and A'level was significant and unexpected, and so this photo captures a moment that at the time, we felt we would never see again.
A Pearson
Headteacher
The Marches School